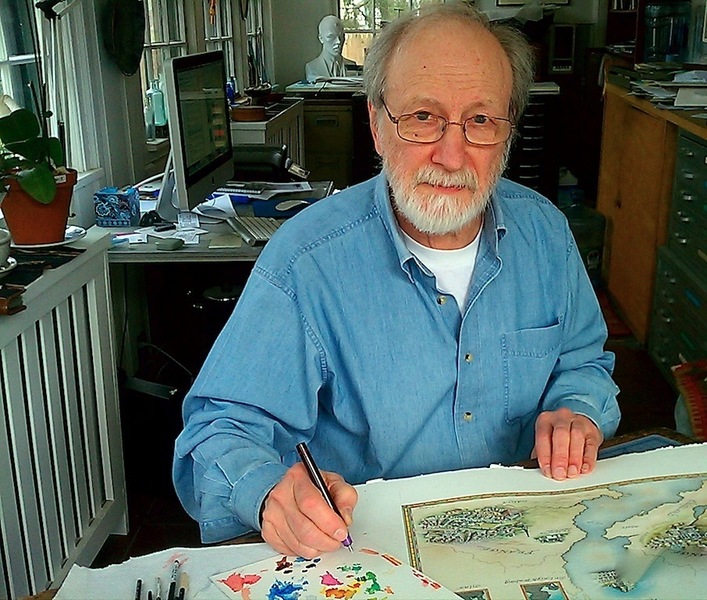 Laszlo Kubinyi's unique illustration technique has been, and continues to be, the fine art of pen and ink drawing combined with water color.
He has been a prolific illustrator for more than 30 years in advertising, television, publishing and editorial art. He has contributed to leading publications, including Audubon Magazine, Discover, National Geographic, Outdoor Explorer, Time, Life, Esquire, Fortune, The Atlantic Monthly, Gourmet, The New Yorker and The New York Times.
He has brought life, humor, adventure and beauty through his illustrations to the world of children's books, including Cat Mummies, Ghosts, Vampires and Werewolves-Eerie Tales from Transylvania, The Town Cats, Poems To Fly, the American Girl Big Book Series as well as close to 40 other books; a full list of illustrated books is available on request.
Twenty-five leading advertising agencies have incorporated his appealing style into advertisements for clients, including Red Lobster, Planters Oil, American Airlines, TWA , Budweiser and Famous Grouse Scotch Whiskey.
He has a particular interest in technical illustration and produces finely detailed art work for textbooks, annual reports, magazines and advertising.
In addition to his work in television and dissolve animations for narrated work by well-known artists, Meg Ryan and Amy Grant (Rabbit Ears Productions, CT), Mr. Kubinyi produced an album cover for Mary Chapin Carpenter and his cover for Thelonius Monk was nominated for a Grammy Award.
"My special love is maps", says Mr. Kubinyi. "I do in-depth historical and geographical research before I even begin to draw", he says. His detailed maps include projects for PBS/New York, Babson College, The Lawrenceville School, The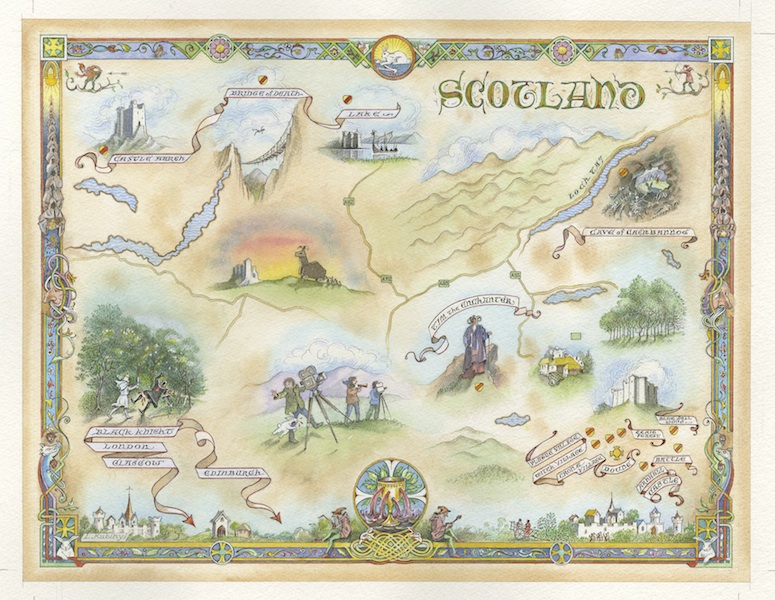 Groton School and state historical projects for Missouri and Oregon. His maps have appeared, as well, in countless newspapers and magazines. Maps are available for purchase on the web site; map aficionados may want to contact Mr. Kubinyi directly; customization is available.
Mr. Kubinyi studied at a number of prestigious institutions, including The School of Visual Arts (NY,NY); The Art Student League (NY, NY); The Boston Museum School (Boston, MA); The School for Computer Audio-Visual Arts (Glen Rock, NJ) and The Esmeralda School, School of Painting and Sculpture (Mexico City, Mexico).
He has received numerous awards , including an AIGA Certificate of Excellence for Town Cats and Other Tales, AIGA Book of the Year for Our Fathers Had Powerful Songs, an ANDY Award of Merit and two awards from the Society of Illustrators, including one for Rabbit Ears Dissolve Animation.
In a world of computers, digital images and machine-made art, Laszlo Kubinyi's hand drawn work with pen and watercolor provides us with the pleasure, inspiration and intricate details of fine art.